Description
Product Description
Honey Soy Chicken
Sweet and spicy blend of rice, chicken and vegetables.
Ingredients
Rice, sauce [Sugar, Modified Starch (1442), Maltodextrin (Maize), Hydrolysed Vegetable Protein (Maize), Dehydrated Vegetables, Flavouring (Flavour Enhancer (635)), Colour (150d), Honey Powder (0.1%), Honey Flavour]Chicken, [Chicken, Soy Protein, Salt, Stabiliser (450, 451)], Carrot, Onion, Peas, Canola Oil, Green Beans, Red Pepper.
Allergens
Contains soy, sulphite
Manufactured in premises that process gluten, dairy, egg, soy, fish, tree nuts, sesame and sulphite products. An allergen management programme is implemented to store allergen products separately and ensure thorough cleaning between product lines.
No added MSG (mono sodium glutamate E621), but glutamate products may be present from other processed ingredients.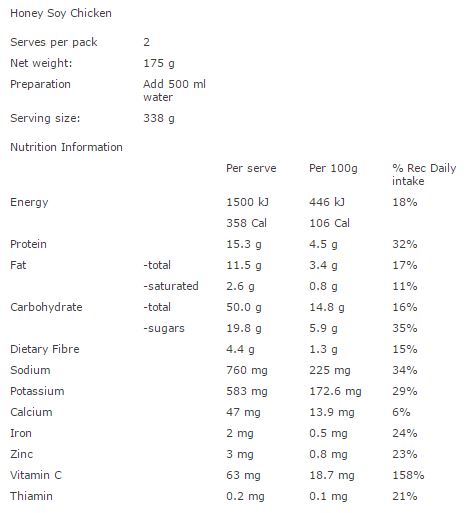 Made in Invercargill, New Zealand by Back Country Foods Limited.
Back Country Cuisine is easy to prepare and great tasting because of the features of our Freeze Dri process. This combines quick-to-hydrate, freeze-dried vegetables and meats with sauce mixes that have been processed to retain their natural flavours. The result is delicious meals that can be prepared in the pack in 10 minutes with the addition of boiling water
The company takes pride in setting high standards of Quality and Food Hygiene. The company is licenced to the highest export standards and conducts regular testing on its products to ensure they meet strict standards.
In the freeze drying process, crystals of frozen ice in the food are sublimed (evaporated) to water vapour in a vacuum chamber. The result is a completely dry product that does not shrink during the drying process. When prepared for eating, the water quickly gets into the pores left by the ice crystals to give a juicy, tender food product.
After packing, the food is heat-sealed in foil pouches from which all the air has been removed and replaced with nitrogen gas. This keeps the food safe and flavoursome for at least three years without the need for preservatives.
Back Country Cuisine meals are formulated to meet the high energy needs of outdoor activity. There is a careful balance of carbohydrates and sugars for instant energy, protein to replenish exhausted muscles and oils and fat to provide an energy store (oils and fats are kept within the recommended maximum of 30% of total energy)
ABOUT Back Country Cuisine
Back Country Cuisine is easy to prepare and great tasting because of the features of our Freeze Dri process. This combines quick-to-hydrate, freeze-dried vegetables and meats with sauce mixes that have been processed to retain their natural flavours. The result is delicious meals that can be prepared in the pack in 1