Description
Product Description
The 4 season Black Diamond Bipod Bivy is both functional and comfortable. A shock-corded Easton aluminum pole arches over the head and shoulder area to provide a roomy space so you won't feel claustrophobic.
A large zippered entry on the Bipod Bivy provides easy access, great ventilation and rolls back to reveal a generously sized, no-see-um net door. You can check out the stars, feel a pleasant breeze on your face – without the local mosquito masquerade joining your party.

All seams are sewn with heavy duty nylon and factory taped. The Bipod has a large zippered entry with a sizable no-see-um mesh panel to keep the critters out and allow the fresh air in. Stuff sack included.
Bottom Line:A lightweight bivy sack that adds comfort and protection to any Campout
Specifications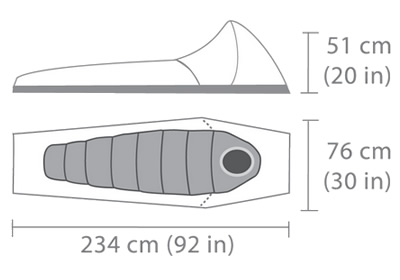 Season :

4

Minimum Weight :

830 g, 1 lb 13 oz

Average Packed Weight :

975 g, 2 lb 2 oz

Dimensions :

234 x 76 x 51 cm, 92 x 30 x 20 in

Area :

1.7 m , 18.5 sq ft

Packed Size :

15 x 33 cm, 6 x 13 in

Details : 4 season rating with 1 year Black diamond warranty
Features
Single-pole design sheds weight but maximizes headroom.
1 shock-corded Easton pole over the head and shoulders
Large zippered entry; net door
Large mesh panel for bugs and ventilation
ToddTex single-wall fabric
Taped seams
Material: Todd-Tex waterproof/breathable Nylon which uses a PFTE membrane and has a 10,000mm waterhead rating